SPECIAL & CULTURAL EVENTS
Our community is extremely important. A part of our social commitment is to include in our programming social and cultural-artistic events as well as educational ones that help to maintain a social conscience and raise funds that serve to support the community in times of crisis.
LOVE IS LOVE PRIDE MONTH FILMS
AWEKENING AWARENESS FILMS MENTAL HEALTH MONTH
THE JUNKIES STOLE THE CLOCK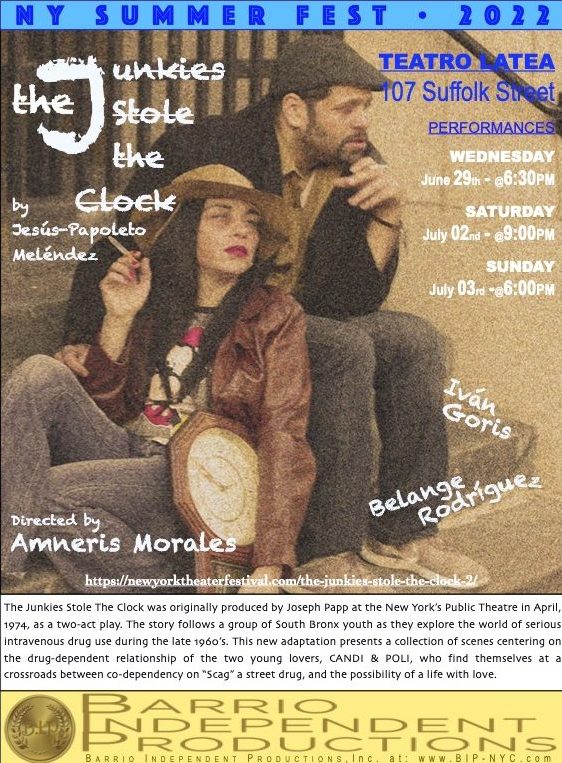 On February 13th, BIP presented at El Barrio's ArtSpace PS 109 (215 East 99 Street – Between
2nd & 3rd Avenues) The Soirée Poetry Book Party, The official presentation to the community
and media BORRACHO [Very Drunk] – LOVE POEMS & OTHER ACTS OF MADNESS
[Poemas de amor Y Otros Actos de Locura] by Jesús Papoleto Meléndez, published on February
1, 2020 by Leaf Press; trade distribution handled by University of Chicago Press / Chicago
Distribution Center.

This event featured the participation of extraordinary artists and personalities who gave voice to
the poems in English and Spanish, accompanied by live jazz music and Spanish guitar. Among
the actors performing were Rhina Valentín, Víctor Cruz, Indio Meléndez, Miriam Cruz, Amneris
Morales, Belange Rodríguez, Sery Colón, Iván Goris and Elliott Ortiz. Mr.Melendez read one
poem to close the evening; Interview and audience Q & A followed the presentation. This book
is a poetic autobiography of a hopeless romantic that extols the essence of a man's character laid
bare in the foibles of his desire and passionate pursuit of love, "equating the state
of being in love with "madness," as Susana Torruella-Leval describes in the introduction of this
book. This journey through a poet's struggle in love and life were written during times of
exhilarated love and joy, as well as through times of a soul's darkness, the painful moments of
being out of love in one's life.

Anyone who has ever loved or ever lost will find some affinity with these poems, and their
experience with love's embrace. You can find the book on Amazon.
La Patria Resiste…The Motherland Resists
THE MOTHERLAND RESISTS is a social and cultural-artistic series of event that seeks
permanent solutions to the crisis in Puerto Rico after the hurricane Maria and it social and
political consequences. We aim to bring Diaspora & from Puerto Rico groups and individuals to
facilitate truly participatory communication & discussions about the crisis in Puerto Rico. All
contributions were donated to artists in Puerto Rico who are in need.

For us it were vital your participation. You support helped strengthen the ties between the Puerto
Ricans of the Island and those of the diaspora, so that together we could contribute to improving
the current situation and the future of Puerto Rico after of Hurricane Maria.
"De Aquí y de Allá Festival" (First Edition) was produced by BIP when we were still Beautiful
Angelbello Productions, with the collaboration of La Marqueta Retoña, and Hispanic Federation.
"De Aquí Y De Allá" is a comedy festival where artists of different nationalities but located in
New York City welcome fellow countrymen artists to share, on the same scene, unipersonal and
stand-up comedy shows.
This celebration of the "De Aquí y de Allá" Festival was dedicated to Puerto Rico after the
passage of Hurricane Maria. The entrance was free of cost and a donation was suggested to help
the artists in Puerto Rico. The proceeds were pierced to the Pregones fund to be donated to the
fellow artists of Puerto Rico who are in need after Hurricane Maria.
The festival ran for three consecutive weekends with different presentations every weekend at
Julia de Burgos Theater (1680 Lexington Ave, New York, New York 10016).
After Hurricane Maria, into the heat of protest in Puerto Rico, two generations collide.
CREDITS:
Amneris Morales: Mother
Belange Rodriguez: Marianna
Marko Santoni: add' voices
Screenplay by: Belange Rodriguez
Make up by: Marko Santoni
Directed, camera & edit: by Ivan Goris
Shot completely on Iphone7 (not a paid sponsorship)
*This is was the last film of Beautiful Angel Productions before becoming B.I.P